About Us
PrintWhatYouLike.com was created by Jonathan Koomjian and Cassie Schmitz, two web developers in Des Moines, Iowa who were frustrated that there was no way to print web pages without wasting reams of paper.
Contact Us
The best way to reach us is at admin@printwhatyoulike.com
If you have any suggestions, or any stories of how you've used PrintWhatYouLike, we would love to hear them.
Bloggers
We love bloggers!! There are so many awesome bloggers who have written excellent posts about PrintWhatYouLike. You can see a partial list of them at http://delicious.com/pwyl.
Please feel free to write whatever you want about the site! Here are the icons we use.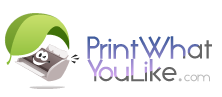 If you have any questions, don't hesitate to contact us at: admin@printwhatyoulike.com Also, if you send us the link to your post, we'll add it to the del.icio.us page
© 2018 PrintWhatYouLike.com